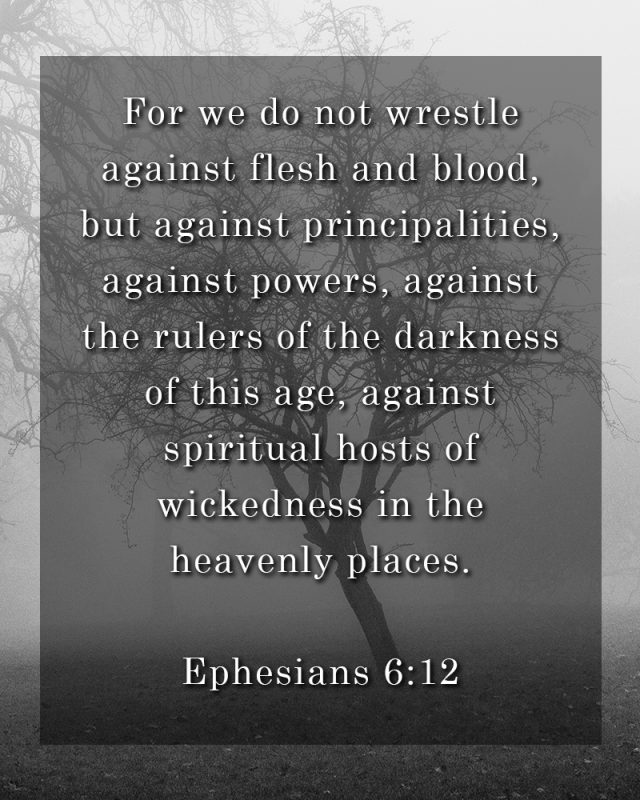 War.
Today, that word does not really conjure up the same images as it did a hundred years ago. It seems like every time we turn on the news or the radio or pull up social media it is - oh look, another 'conflict.' One hundred years ago - the world had already seen a World War. This word 'war' brought up the remembrance of what happened just a few short years before. But today - we are almost immune as a society. The 'conflicts' that are going on now are so far removed from most - we see them on the tv or social media and say, 'oh that is terrible' and then scroll to the next TikTok video and are continued to be entertained. I know I have - we all do it.
Now - with that being said - I am not here to call out or make anyone feel guilty. But I want to draw your attention to the often-hidden truth of the matter.
Ephesians 6:12 -
"For we do not wrestle against flesh and blood, but against principalities, against powers, against the rulers of the darkness of this age, against spiritual hosts of wickedness in the heavenly places."
The suffering of our fellow brothers and sisters in this world is terrible. But that is not the root cause of the problem - so what is? There is a greater and more terrible foe that is the real enemy.
Revelation 12:3 -
"And another sign appeared in heaven: behold, a great, fiery red dragon having seven heads and ten horns, and seven diadems on his heads."
But who is this 'great, fiery red dragon?' Again, the bible tells us…
Revelation 20:2 -
"He laid hold of the dragon, that serpent of old, who is the Devil and Satan…"
This here is our greatest enemy revealed. All the suffering and death in this world is the cause of this dragon. The conflict that started all that time ago is still raging - and coming to a swift and brutal climax.
But let us bring it in to a more personal level. Yes, this 'sin problem' is the cause of all the suffering in the world. But that also includes suffering on a personal level as well. The conflicts that we find ourselves in amongst our friends and family. The conflicts that we have in the church! That is right - even God's house – maybe even especially God's people are not excluded from the effects and schemes of our mortal enemy. As callous as it may be to hear - the suffering of the world at large is a byproduct of the war that this dragon is waging against those in direct conflict with him. As professed, converted Christians - that is you and me. But do not worry - we are not in this fight alone. Like the psalmist says -
Psalm 91:2 -
"I will say of the Lord, "He is my refuge and my fortress; My God, in Him I will trust.'"
God beautifully answers our cries for help and safety…
Isaiah 41:10-13 - 
"Fear not, for I am with you; Be not dismayed, for I am your God. I will strengthen you, Yes, I will help you, I will uphold you with My righteous right hand. Behold, all those who were incensed against you shall be ashamed and disgraced; they shall be as nothing, and those who strive with you shall perish. You shall seek them and not find them--those who contended with you. Those who war against you shall be as nothing, as a nonexistent thing. For I, the Lord your God, will hold your right hand, saying to you, 'Fear not, I will help you.'"
 
We know who wins this war in the end. Sometimes it may feel like we are losing the battle, but if we stay true to Jesus and hold fast to His faith and statues - He promises that we will be victorious with Him. He is the one fighting our battles and this war for us - so we do not need to be afraid of the outcome - because we already know it! So, I am letting God fight my battles for me - who is fighting yours?