Welcome to the Golden Seventh Day Adventist Church!
You can find out a lot about what is happening in our church by checking out the pages on our website. Come back every week to enjoy our LIVE sermons and see what is new on our calendar.
Want to be involved? There are a lot of opportunities to share your talents as a part of one of the ministries of our church.
We hope that you will join us for worship on Saturday morning or can attend one of the many other activities listed on our calendar.
Pastor's Weekly Devotion
(August 13, 2022)
Last week we were instructed by the first half of 1 Thessalonians 5:13 to hold our leaders in the highest regard out of our love for them.  The context of 1 Thessalonians 5 indicates that Paul believes this is one of the ways we prepare for the second coming of Jesus.  In the second half of 1 Thessalonians 5:13, we are confronted by a very short follow-up to the kind of preparation we are called to pursue in order to get ready for Jesus' return: "Live in peace with each other" (NIV).  What is fascinating about this small vision statement is the word "peace."  In its verbal form, the Greek word "peace" means both "living in a peaceful way" (i.e., peaceful actions and behaviors) and "being at peace" (i.e., existing in a state of peacefulness).  What may sound like a command is actually an invitation: be at peace among yourselves and live in a peaceful way toward each other.  I know many Seventh-day Adventists who do not have peace within themselves, being crippled by the fear that they won't make it to heaven or that Jesus doesn't want to save them.  And I think many of us have seen times - perhaps more than we'd care to remember - when Seventh-day Adventists were mean, obnoxious, and unkind to each other.  But it doesn't have to be this way!  Friends, the best preparation for the second coming of Jesus is to let peace reign in your life: to practice peace among each other and to be at peace with yourself.  And the best way to let this peace reign in your life is to let Jesus, the Prince of peace, make you a recipient and agent of his peace.  God bless.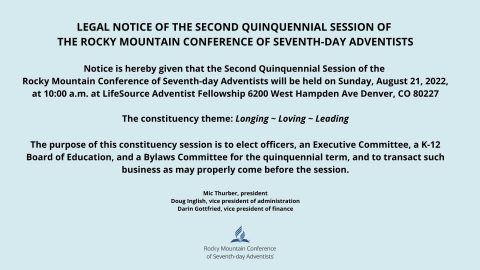 Visit one of our sister churches! Click a link below: