Welcome to the Golden Seventh Day Adventist Church!
You can find out a lot about what is happening in our church by checking out the pages on our website. Come back every week to enjoy our LIVE sermons and see what is new on our calendar.
Want to be involved? There are a lot of opportunities to share your talents as a part of one of the ministries of our church.
We hope that you will join us for worship on Saturday morning or can attend one of the many other activities listed on our calendar.
---
Pastor Gamble's Weekly Devotion
(October 22, 2022)
How much power do you think you have compared to the Holy Spirit?  A little?  A lot?  None?  According to 1 Thessalonians 5:19, you and I actually have quite a bit of power, since this passage says, "Do not quench the Spirit" (NIV).  The word for "quench" can also mean "extinguish," like when a fire is going and you purposefully suffocate it.  Its literal meaning, however, is much more basic: "put out."  It can either suggest someone who accidentally lets a fire go out because they're not paying attention, or someone who puts the fire out on purpose (for whatever reason).  Both connotations of the word "quench" indicate that Paul has in mind the ongoing equipping of Pentecost that the Holy Spirit provides.  Regardless of its exact meaning, the word "quench" indicates that it is someone else, not the Holy Spirit, who is in the driver's seat of action.  In a chapter on getting ready for the second coming of Jesus, 1 Thessalonians 5:19 is alarming "preparation" for believers because of its implications: you have the power to put the Holy Spirit out.  You and I have the ability to choose to be unprepared for Jesus' return simply by declining the Spirit's fire!  But the good news is that it doesn't have to be this way, since Paul's advice is "do not" do this.  Friends, the best preparation for the second coming of Jesus is to not obstruct or hinder the Holy Spirit's movement, work, or passion that he is establishing in your lives.  God bless.
---
Check our new Blog section "Golden Thoughts"!
We have posted our very first article with a timely response to current events within our conference we hope you will check it out!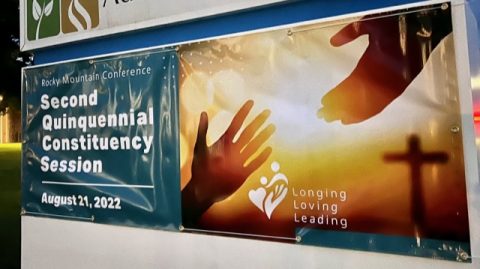 After the RMC Women's Ordination Vote: Where Do We Go from Here?
By: Keith Perris
Starting as far back as the 1960s, portions of the Seventh-day Adventist Church, including the North American Division (NAD), have been promoting what they say are much-needed reforms within the church: to allow women to be ordained: initially as Elders, and later as ..... CLICK HERE TO CONTINUE
Visit one of our sister churches! Click a link below: