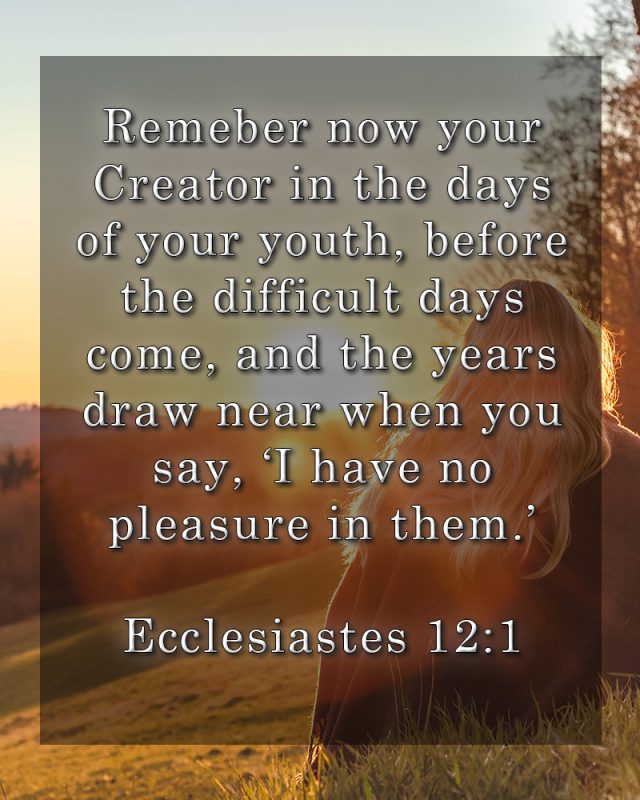 Life is hard.
I remember when I was a kid - I couldn't wait to be a grown-up. I wanted what I thought was the freedom to do what I wanted when I wanted. I didn't know what waited for me. The worries, the struggles, the hard decisions, the loss. Now don't get me wrong - I love my life. But let me tell you - when I was five - I literally had no idea.
I had the privilege of growing up in a Christian home. I knew the love of a family and knew of Jesus from a very young age. While prepping for a bible study - this verse came up and something about it just hit me really hard. So I read the rest of the chapter. Then I was like - 'oh man, I need context,' and off I went down the rabbit hole.
On the surface, book of Ecclesiastes is the musings of a man who is over life in general and sounds like he can't wait for it to be over. But if we look deeper - we see that it is a realistic view of life and it's meaninglessness without God. Without faith we cannot appreciate the beauty that is the gift of life. We see that wisdom is a gift from God but wisdom that is not tempered with faith is useless. Human intellect - "human wisdom" - can only take you so far. We see that in the example that is Solomon's life. He had a relationship with God. Something that his father had passed on - the love for God above all else. But then life happened - with all its distractions - and he was led astray. He forgot to temper his wisdom with faith and he separated himself from the Source of that Wisdom. But toward the end of his life he found his way back.
Ellen White really makes an excellent point in Prophets and Kings 82:
"From [Solomon's life] we should learn that in watchfulness and prayer is the only safety for both young and old. Security does not lie in exalted position and great privileges. One may for many years have enjoyed a genuine Christian experience, but he is still exposed to Satan's attacks. In the battle with inward sin and outward temptation, even the wise and powerful Solomon was vanquished. His failure teaches us that, whatever a man's intellectual qualities may be, and however faithfully he may have served God in the past, he can never with safety trust in his own wisdom and integrity."
Never think that you know so much or that you are in such good standing with God that you are immune to the attacks of the devil. I encourage you to get back to the "Creator in the days of your youth." The early days of your journey with Christ - the exciting days when everything was new and wonderful. Sometimes, often times, we can get bogged down by the 'hard times' of our everyday lives. The hard decisions, the money troubles, the relationship troubles. But one thing is constant - the Creator of our youth. He wants us to reach out to him like a child reaching for their parent. That trusting love that knew, without the shadow of a doubt, that we could come to them with all of our troubles and desires and it would all work out.
So remember "your Creator in the days of your youth." He's waiting just for you.