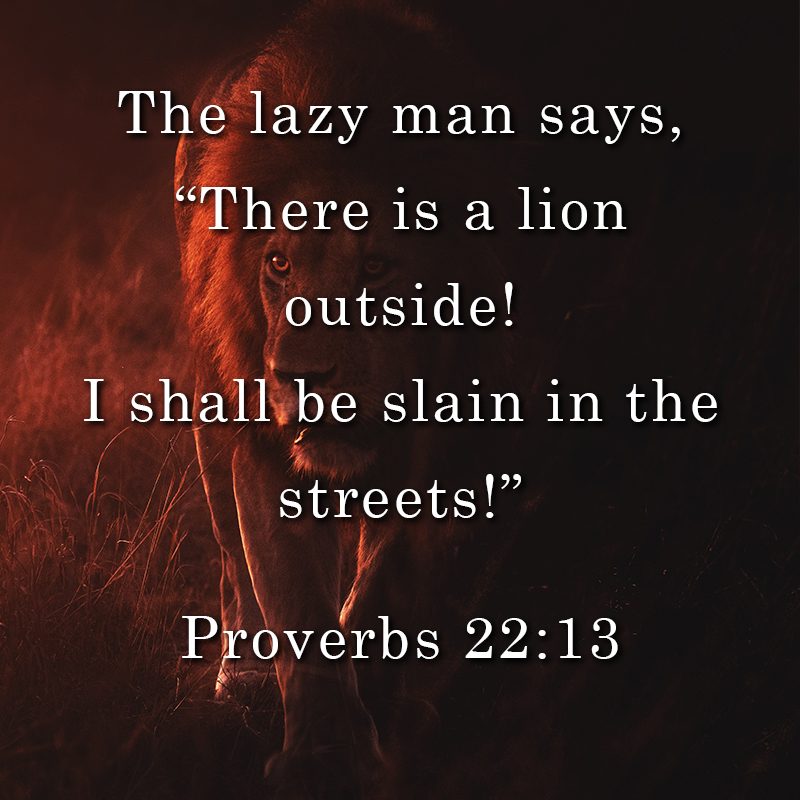 How many times do we focus only on the trouble we're facing, instead of focusing our prayers to God? Believing that "This is it, this is where God leaves us to the lion at the door".
Reading through Proverbs, I noticed a lot of warning about a "lazy man". This lazy man will be subjected to many undesirable things, such as forced labor, hunger, death, lack of understanding, and self-exaltation. But what stood out most to me was Proverbs 19:15 - this verse warns that laziness casts one into a deep sleep. Not a sleep of peacefulness and rest, but a dangerous one. Instead it's a sleep that leads to idleness, suffering and hunger. Proverbs 20:13 also warns not to love sleep, lest you come to poverty. This sleep talked about here could be one that would contribute to spiritual poverty. In that same verse it tells us to instead open our eyes and we will be satisfied with bread. Continuing with this trend of spiritual laziness, Proverbs 13:4 says the soul of a lazy man desires, and has nothing; but the soul of the diligent shall be made rich. Applying these verses to one's prayer life, brought to mind the danger of letting one's self become the lazy man. Focusing on the problems that are so much bigger than you and assuring yourself this is where God abandons you. Not remembering that God is bigger than any problem we could face, any roaring lion seeking whom he may devour is no match for God.
Remember not to let your laziness stop you from coming to God on bended knee when the lions appear. Remember to come to God daily in His word and through prayer lest you become depleted, spiritually hungry, or idle…. not moving but just existing. Don't let yourself just desire like the lazy man for your lions to go away, instead be like the diligent - not giving up or in until you are rich with that which is needed to trust God when He gives heart felt promises. Promises like "Do not be afraid of sudden terror, nor of trouble from the wicked when it comes; for the LORD will be your confidence, and will keep your foot from being caught." (Proverbs 3:25, 26) Instead we should be like the diligent… steady, earnest; effort is needed when we seek God and His help. The generous soul will be made rich, and he who waters will also be watered himself. (Proverbs 11:25) Be generous with your prayers for others; be generous with the time you spend with God in prayer and study, in doing so God will give you enough spiritual richness to not only defeat the worry about the lions, but to keep you well-watered, spiritually full and also provide you with excess that you can water others.
By: Jessi Medina