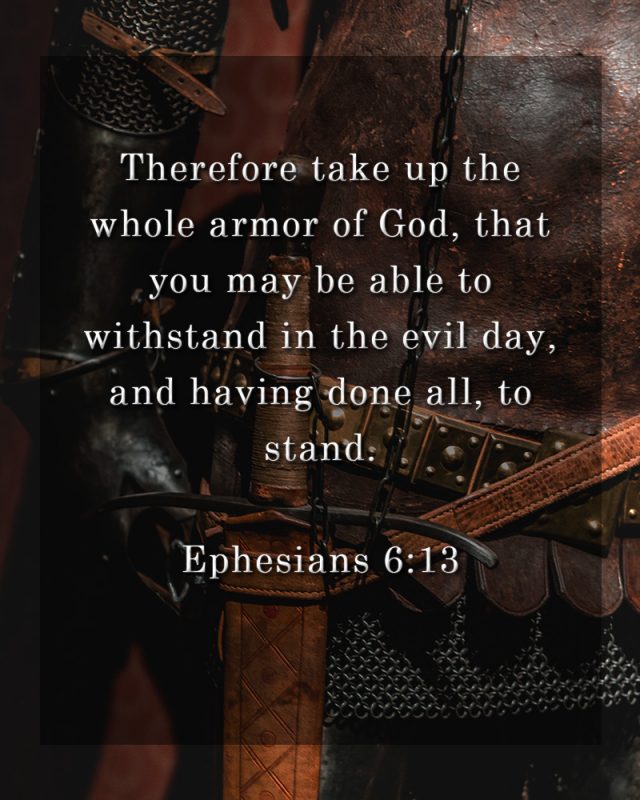 Ephesians 6:14-20 -
"Stand therefore, having girded your waist with truth, having put on the breastplate of righteousness, and having shod your feet with the preparation of the gospel of peace; above  all, taking the shield of faith with which you will be able to quench all the fiery darts of the wicked one. And take the helmet of salvation, and the sword of the Spirit, which is the word of God; praying always with all prayer and supplication in the Spirit, being watchful to this end with all perseverance and supplication for all the saints--and for me, that utterance may be given to me, that I may open my mouth boldly to make known the mystery of the gospel, for which I am an ambassador in chains; that in it I may speak boldly, as I ought to speak."
Most, if not all of us know, or are at least familiar with the verses above. But have we really stopped to think about what these verses imply? I remember when I was growing up singing one of many songs in sabbath school - Onward Christian soldiers, marching as to war… - all of us know that song! Or how about - We are soldiers, in the army…oh I'm in the Lord's Army, YES SIR! And we all salute! I loved that song - I STILL love that song! We have this image in our heads from a very young age that we are in the Lord's Army - but what does that entail? How does one 'fight' in the Lord's Army? Being in an army implies weapons and armor and gear…what armor does one wear? When our Master General is also known as the "Prince of Peace" - what weapons would we dare to use in the war that we are in for our very souls?
There are many different ways that this 'war' is described. It's a walk, a run, a journey, a blessing, a struggle - but often times we will describe it as a battle. I know I have - and I can guarantee that most, if not all of you have at one time or another described your life as such. This life is full of sin - and unfortunately - as converted, Bible proclaiming followers of Christ - a totally easy life is just what we signed on for. But we are warned of that -
2 Timothy 2:3-4 -
"You therefore must endure hardship as a good soldier of Jesus Christ. No one engaged in warfare entangles himself with the affairs of this life, that he may please him who enlisted him as a soldier."
There are always going to be things that we have to deal with in this world - cause hey, we live here. But in these verses, Paul is pointing out that even if we have to deal with these things - it is not what is most important. What is - is doing what God has directed us - following His orders. And what are those? We see His orders in detail in Exodus 20 and Deuteronomy 5 - but it boils down to this - 
Luke 10:27 -
"So He answered and said, 'You shall love the Lord your God with all your heart, with all your soul, with all your strength, and with all your mind,' and 'your neighbor as yourself.'"
Love God and love each other with the same love that Jesus has. Paul, in speaking to the church in Rome - tells us to get our act together and start following these orders from our Master General.
Romans 13:11-14 -
"And do this, knowing the time, that now it is high time to awake out of sleep; for now our salvation is nearer than when we first believed. The night is far spent, the day is at hand. Therefore let us cast off the works of darkness, and let us put on the armor of light. Let us walk properly, as in the day, not in revelry and drunkenness, not in lewdness and lust, not in strife and envy. But put on the Lord Jesus Christ, and make no provision for the flesh, to fulfill its lusts."
Paul is saying that we need to stop being idle - wake up out of our society induced sin-sleep and follow our marching orders. But notice here that Paul tells us what our armor is - what we should be wearing into battle. 'The armor of Light,' well what is that? He explains in verse 14 - 'put on the Lord Jesus Christ.' It is no secret who our armor is - who our shield is. It is Jesus - the Man that bled and died for us upon the cross. The One that made provision for us to be saved by His life and His blood if we would just believe in faith and follow those commands.
Okay, so I know you are going to ask - but how do you 'put on light? Put on Jesus?' We are told in detail what those are - look back to the top of the page - Ephesians 6 tells us what we are putting on. Going into battle day after day - every second of the day is hard. We can never let our guard down for a second because…
1 Peter 5:8 -
"Be sober, be vigilant; because your adversary the devil walks about like a roaring lion, seeking whom he may devour."
But the very next verse tells us how to resist him - through faith. And what do you know, that is one of the very things that we are armed with! Good thing God knows what He is doing - he gives us the belt of truth, breastplate of righteousness, our boots are the gospel of peace, and we have the shield of faith, the helmet of salvation, and the sword of the Spirit - the word of God! But these are not things that we are meant to fight in the world of flesh and bone - even though we live here - it is not our true enemy.
2 Corinthians 10:3-5 -
"For though we walk in the flesh, we do not war according to the flesh. For the weapons of our warfare are not carnal but mighty in God for pulling down strongholds, casting down arguments and every high thing that exalts itself against the knowledge of God, bring every thought into captivity to the obedience of Christ…"
Jesus is our Master General - and He is the one who ultimately fights our battles. The first thing one has to do before donning that armor is surrender. We have to realize that we CANNOT win this fight without Him. It is utterly impossible. A sure way to lose the war. But that is just it - we don't have to fight the battle. I have realized, fairly recent unfortunately, that most of these verses don't talk about actively fighting. Go ahead - go back and read them. Look up other verses on this topic. Most of them are going to use language like - 'endure, stand, stand firm, don't be moved, withstand…' Not a whole lot of fighting action going on there. But guess what? There is One who does fight - and He is the ultimate General. And He has never lost.
Psalm 27:1-3 -
"The Lord is my light and my salvation; whom shall I fear? The Lord is the strength of my life; of whom shall I be afraid? When the wicked came against me to eat up my flesh, my enemies and foes, they stumbled and fell. Though an army may encamp against me, my heart shall not fear; though war may rise against me, in this I will be confident."
I don't know about you - but I like those odds.