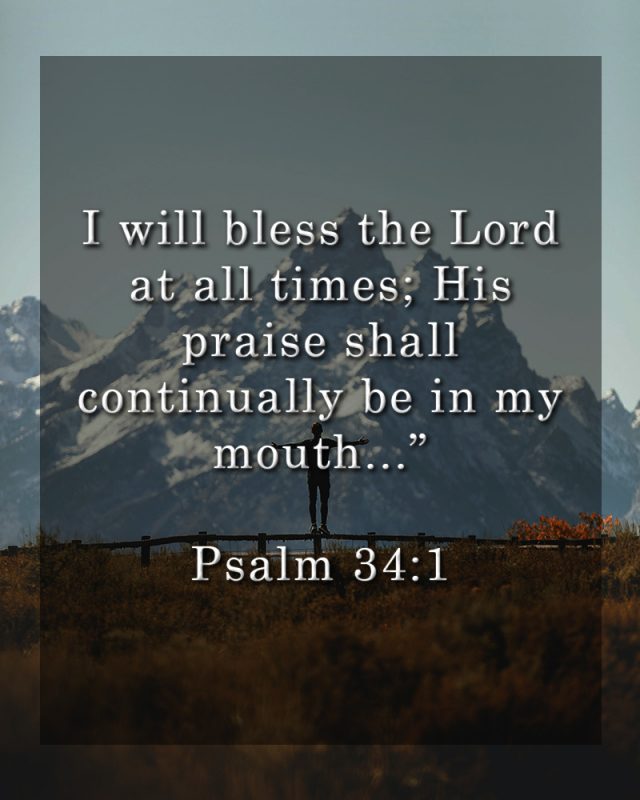 Why is this happening? What did I do wrong? Why am I suffering like this?
 
Have you ever heard someone who is going through a difficult time ask these questions? Have you maybe yourself asked these questions to a friend? Of God? God, why are you letting this happen to me? These are not at all uncommon questions in the midst of suffering. It may be cold comfort - but I sincerely believe that there is always a 'reason' for the suffering. Now don't get me wrong; Satan loves to provide any and all circumstances for our suffering - but we have hope in knowing that God will turn it into a chance for us to grow and bring glory to Him and His kingdom. 
 
Have you ever met someone who - even in the midst of great suffering and tragedy - that just has this…peace about them? Peace that - just no one seems to understand? Jesus - when talking to his disciples of the tragedies that will befall them in this life says:
 
John 16:33 - 
 
"These things I have spoken to you, that in Me you may have peace. In the world you will have tribulation; but be of good cheer, I have overcome the world."
 
We often get so overwhelmed by the sufferings of this life that we forget that the sufferings, the tribulations are not the point. The point is that Jesus has 'overcome the world.' No matter what happens in this life - our focus is not this world - but of heaven and our eternal reward. 
 
In Psalms - one of my favorite books of the Bible - there seems to be something for every aspect of life. David lived life. One of great triumph and joy - but also one of great suffering and tragedy. One where he often felt bereft and abandoned by God - just like sometimes we feel in the midst of our trails and sufferings. But David always knew - that no matter what feelings he had - God was always with him.
 
Psalm 139:7-12 - 
 
"Where can I go from Your Spirit? Or where can I flee from Your presence? If I ascend into heaven, You are there; if I make my bed in hell, behold, You are there. If I take the wings of the morning, and dwell in the uttermost parts of the sea, even there Your hand shall lead me, and Your right hand shall hold me. If I say, 'Surely the darkness shall fall on me.' Even the night shall be light about me; indeed, the darkness shall not hid from You, but the night shines as the day; the darkness and the light are both alike to You."
 
The most well-known book on the suffering that can be caused by Satan is the book of Job. Man - talk about a man that suffered. But even here - Job never was shaken in his faith. He stayed true to God - knowing that there was a reason that he was suffering - though he didn't understand it - He knew that God was in control. 
 
Job 19:25-27 - 
 
"For I know that my Redeemer lives, and He shall stand at last on the earth; and after my skin is destroyed, this I know, that in my flesh I shall see God, whom I shall see for myself, and my eyes shall behold, and not another. How my heart yearns within me!"
 
What an example for us - the man known for suffering - still had this hope that he would see God. He had the peace that passed all human understanding. He knew that no matter what he felt that God had not abandoned him. In Moses' final address to the Israelites - he gives this encouragement…
 
Deuteronomy 31:6 - 
 
"Be strong and of good courage, do not fear nor be afraid of them; for the Lord your God, He is the One who goes with you. He will not leave you nor forsake you."
 
Who better to fight our battles; to go through our suffering with us than the one who suffered unto death? Because really - 
 
Romans 8:31 - 
 
"What then shall we say to these things? If God is for us, who can be against us?"
 
2 Timothy 1:7 - 
 
"For God has not given us a spirit of fear, but of power and of love and of a sound mind."
 
God tells us that the sufferings of this life are not what He intended for us…
 
Jeremiah 29:11-13 - 
 
"For I know that thoughts that I think toward you, says the Lord, thoughts of peace and not of evil, to give you a future and a hope. Then you will call upon Me and go and pray to Me, and I will listen to you. And you will seek Me and find Me, when you search for Me with all your heart."
 
In Revelation, God promises that He will wipe away all suffering and it will be no more.
 
Revelation 12:4 - 
 
"And God will wipe away every tear from their eyes; there shall be no more death, nor sorrow, nor crying. There shall be no more pain, for the former things have passed away."
 
We have a hope that no matter what we face in this life - there is a better one coming. We really can have that peace that no one can understand - one that point others to Christ. We can share that witness; be martyrs that bring glory and honor to God. That turn what the devil would use to discourage and beat us down with sorrow and pain - and use it to create an example of the beautiful hope that we have in the life, death and resurrection of Jesus. Knowing that despite all that Satan throws at us; all the death and suffering and trials meant to trap us and separate us from God - that we are firm in the faith of Jesus and that heaven is cheap enough. Like Paul…
 
Romans 8:38-39 -
 
"…I am persuaded that neither death nor life, nor angels nor principalities nor powers, nor things present nor things to come, nor height nor depth, nor any other created thing, shall be able to separate us from the love of God which is in Christ Jesus our Lord."