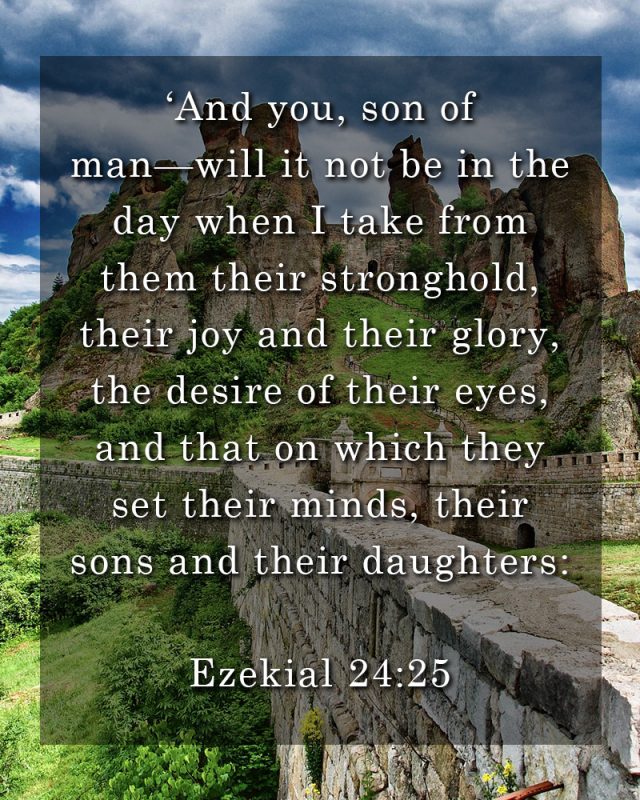 I will be honest with you much of this chapter remains kind of a mystery to me, one that I will have to spend more time to unpack. But verse 25 brought to mind so many verses and a promise of protection and comfort was seen by my eyes. What I do know however, in this chapter Ezekiel loses his wife, and is told by God that he "shall neither mourn nor weep, nor shall tears run down" (v.16).
At first, I read it as God telling him not to do these things, to resist himself from mourning. But then I remembered Galatians 2:20:
"I have been crucified with Christ: it is no longer I who live, but Christ lives in me; and the life which I now live in the flesh I live by faith in the Son of God, who loved me and gave Himself for me."
Now, I realize Christ had not yet been crucified in Ezekiel's time, and I won't act like I know what Ezekiel knew about that, because I have not studied this. However, it seems to me that God helped Ezekiel… in that God made it so Ezekiel "would not mourn, weep, nor let tears run down".
I say this because I've never seen someone in that situation control those emotions or instincts without Gods help. So keeping it in mind that Ezekiel was strengthened by God to do what God had commanded him to do despite the loss. We get to Verse 25….
"And you son of man-will it not be in the day when I take from them their stronghold, their joy and their glory, the desire of their eyes, and that on which they set their minds, their sons and their daughters"
Ezekiel 24:25 - These people made their strongholds, their joy, their glory, the desire of their eyes, and the setting of their mind on all the wrong things. And because of that….God said "He would take from them" all those things. It made me think of Psalm 18:2:
"The LORD is my rock and my fortress and my deliverer; my God, my strength, in whom I trust; my shield and the horn of my salvation, my stronghold."
Also…
Psalm 35:9
"And my soul shall be joyful in the LORD; it shall rejoice in His salvation."
Psalm 3:3
"But You, O LORD, are a shield for me, my glory and the One who lifts up my head"
And…
Psalm 27:4
"One thing I have desired of the LORD, that will I seek: That I may dwell in the house of the LORD all the days of my life to behold the beauty of the LORD, and to inquire in His temple."
These Psalms are where God wants our minds stayed…These strongholds, joy, glory, and desire are ones that God would never take away because they are from Him. They are the versions of these that He desires for us to have. But as we all know there is always a counterfeit as seen in Verse 25 of the 24th chapter of Ezekiel. God is faithful to show us where we place the importance of these things in our lives.
Psalm 26:2
"Examine me, O LORD, and prove me; try my mind and my heart"
And upon doing that He promises us in 2 Corinthians 6:18:
"I will be a Father to you, and you shall be My sons and daughters, says the LORD Almighty."
So what I got out of this verse in an otherwise confusing chapter of Ezekiel, is make sure God is your stronghold, your joy, get your glory from Him, make Him and His promises the desire of your eyes, set your minds on
Philippians 4:8:
"…whatever things are true, whatever things are noble, whatever things pure, whatever things are of good report, if there is any virtue and if there is anything praiseworthy-meditate on these things."
And by doing all of this, God assures us that He will be "a refuge in times of trouble" and we "shall neither mourn nor weep, nor shall tears run down" for "…God will wipe away every tear from their eyes; there shall be no more death, nor sorrow, nor crying…." Revelations 21:4