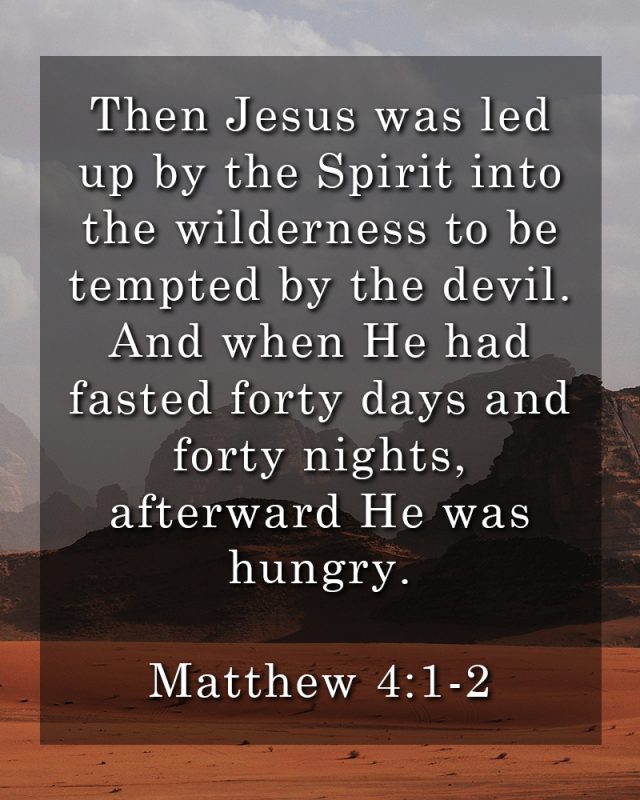 Quote/Scripture: Matthew 4:1-22
"Then Jesus was led up by the Spirit into the wilderness to be tempted by the devil. And when He had fasted forty days and forty nights, afterward He was hungry. Now when the tempter came to Him, he said, 'If You are the Son of God, command that these stones become bread.' But He answered and said, 'It is written, 'Man shall not live by bread alone, but By every word that proceeds from the mouth of God.' Then the devil took Him up into the holy city, set Him on the pinnacle of the temple, and said to Him, 'If You are the Son of God, throw Yourself down. For it is written, 'He shall give His angels charge over you,' and, 'In their hands they shall bear you up, lest you dash your foot against a stone.' Jesus said to him, 'It is written again, 'You shall not tempt the Lord your God.' Again, the devil took Him up on an exceedingly high mountain, and showed Him all the kingdoms of the world and their glory. And he said to Him, 'All these things I will give You if You will fall down and worship me.' Then Jesus said to him, 'Away with you, Satan! For it is written, 'You shall worship the Lord your God, and Him only you shall serve.' Then the devil left Him, and behold, angels came and ministered to Him. Now when Jesus heard that John had been put in prison, He departed to Galilee. And leaving Nazareth, He came and dwelt in Capernaum, which is by the sea, in the regions of Zebulun and Naphtali, that it might be fulfilled which was spoken by Isaiah the prophet, saying: The land of Zebulun and the land of Naphtali, by the way of the sea, beyond the Jordan, Galilee of the Gentiles: The people who sat in darkness have seen a great light, and upon those who sat in the region and shadow of death Light has dawned.' From that time Jesus began to preach and to say, 'Repent, for the kingdom of heaven is at hand.' And Jesus, walking by the Sea of Galilee, saw two brothers, Simon called Peter, and Andrew his brother, casting a net into the sea; for they were fishermen. Then He said to them, 'Follow Me, and I will made you fishers of men.' They immediately left their nets and followed Him. Going on from there, He saw two other brothers, James the sone of Zebedee, and John his brother, in the boat with Zebedee their father, mending their nets. He called them, And immediately they left the boat and their father, and followed Him."
Jesus' ministry begins with the blessing of the Holy Spirit at his baptism but, as so often happens after great experiences of the Holy Spirit, battles immediately follow.
'Next Jesus was taken into the wild by the Spirit for the Test' (4:1, MSG). The temptations start with the words, 'If you are the Son of God…' (vv.3,6). The devil is tempting Jesus to presume on his identity, and thus to test his Father. Sometimes the devil comes to us and says, 'If you are a Christian, then you are better than others.' Or, 'If God forgives everything, it doesn't matter how you live.' Respond by following Jesus' example.
Jesus faced three powerful temptations:
Instant gratification (economic)
There are some things that provide instant gratification but leave you feeling hollow afterwards. Jesus had prepared by fasting for forty days and forty nights. 'That left him, of course, in a state of extreme hunger, which the devil took advantage of in the first test' (vv.2b–3a, MSG). He says to Jesus, 'If you are the Son of God, tell these stones to become bread' (v.3b). Jesus answers, 'It is written: "People do not live on bread alone, but on every word that comes from the mouth of God"' (v.4). Although 'bread' is necessary it is not enough on its own. Material things can never fully satisfy. There is a deeper spiritual hunger that can only be satisfied by 'every word that comes from the mouth of God' (v.4). We need regular spiritual food even more than regular physical food.

Testing God (religious)
Next, the devil puts before Jesus the challenge to throw himself off the highest point of the temple. This is a temptation for Jesus to take his Father's loving protection for granted, and to test it. The devil goaded Jesus by quoting Psalm 91, but it is a verse taken out of context. Jesus countered with a verse that is in context: 'Do not put the Lord your God to the test' (v.7).

Wrong means (political)
Third, the devil shows Jesus all the kingdoms of the world and offers them, 'if you will bow down and worship me' (Matthew 4:8–9). This is the temptation to be dissatisfied with God himself and to embark on a programme of unscrupulous manipulation to achieve his ends by the wrong means. Jesus responds: 'Away from me, Satan!' He backed his rebuke with a third quotation from Deuteronomy: 'Worship the Lord your God, and serve him only' (v.10).
To each temptation Jesus responds with a verse from Deuteronomy Chapters 6–8. Perhaps he had been studying these chapters at that time. As you study the Bible it reveals God's character and loving care for you, and deepens your relationship with him. This protects you against the devil's lies, and helps and equips you to resist temptation when it comes.
At the end of these battles, Jesus enjoyed the blessing of angels who 'came and took care of Jesus' needs' (v.11, MSG). The period of blessing did not last long. Jesus heard that John had been put in prison (v.12). It must have been devastating for Jesus to find out that his cousin had been imprisoned for his preaching.
Jesus was not daunted. He began to preach the very message that had caused John's arrest: 'Repent, for the kingdom of heaven is near' (v.17). He was fearless and courageous in the face of his battles.
Life is not just a matter of defensively seeing off the attacks; there are also positive advances to make. Jesus was on a mission. He began to build his team for that mission calling his first disciples: 'Jesus said to them, "Come with me. I'll make a new kind of fisherman out of you. I'll show you how to catch men and women..." They... dropped their nets and followed' (vv.19–20, MSG). These were exciting times. The beginning of the ministry of Jesus was a period of great blessing.
Lord, help me to follow the example of Jesus in battles and blessings. May I learn your Word so I can respond to temptation and be courageous in proclaiming the message of Jesus.